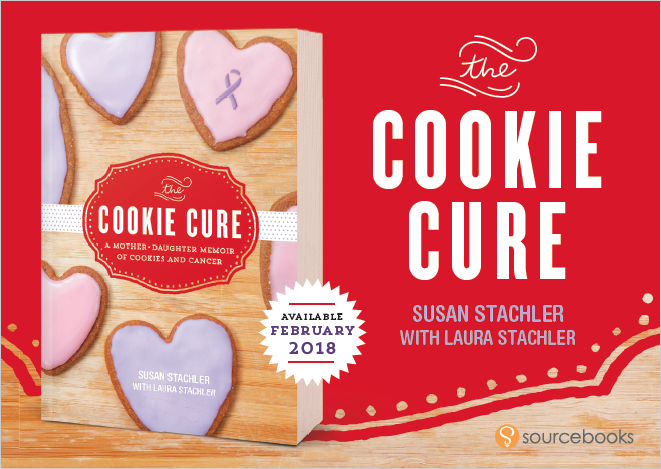 My mom, Laura, and I are excited to share our story...
Told with heartfelt honesty and charming wit, The Cookie Cure is about learning to carry on when things get tough and letting life take you places you never imagined...
As a college senior, Susan Stachler's life took an unexpected turn when she was diagnosed with the same disease that her aunt Susan died from at age twenty-eight. From the moment Susan's mom, Laura said, "Sweetie, you have Hodgkin's", they have been on the most unlikely journey from cancer treatment to starting a business out of their garage. Their story is proof that anything is possible, and in the end, you may find you are a bit stronger than you think.
The Cookie Cure is written in Susan's voice with letters uniquely woven in from Laura to her late sister, Sue. Laura and Susan's wish is that you find their story both entertaining and hope filled, and it inspires you to find your own ginger lining!
Praise for The Cookie Cure
"Endearing tale of love, hope, and courage. A Sweet Story."
- Kirkus Reviews
"Only God can bring this beauty out of the ashes of suffering. We highly recommend this inspiring story of love in action."
- Kathie Lee Gifford, co-host The Today Show
"Laura and Susan Stachler embody the resilience of the human spirit."
- Sara Haines, co-host of The View
"The Cookie Cure is sure to inspire many who are facing devastating times to see the possibility of a sweeter future ahead."
- Daryn Kagan, former CNN anchor
"The story shared by these real-life steel magnolias is a true testament to their grace, strength, and resilience."
- Lisa Frederick, Editor, Southern Lady Magazine