Atlanta Business Radio interview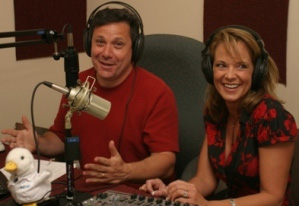 Susan and Laura Stachler, of Susansnaps, were interviewed on Atlanta Business Radio.
Each Wednesday at 10:00 AM, from their studio in Sandy Springs, Lee Kantor and Amy Otto interview Atlanta, Georgia's top businessmen and businesswomen to learn what makes them the best at what they do.
This week's show was about coping with cancer. First up were Laura and Susan Stachler creators of Susan Snaps. Laura is the owner of Laura's Divine Desserts and she created Susansnap ginger snap cookies as a way for her to help relieve the nausea her daughter (Susan) and her husband were experiencing when they were each going through chemotherapy. Ginger is a natural way to combat nausea. Their story is truly remarkable and their cookies are delicious. Their cookies and story have recently been profiled by Daryn Kagan, Paula Deen and Martha Stewart.
Also on the show was Susan Brown, certified Life Coach, who helps people recovering from cancer. She explained her philosophy in three words…recover, reclaim and rejoice.
The final guest on the show was Terry Lewinson, who runs the Patient Navigator program locally for the American Cancer Society. This amazing program helps patients navigate through the confusion a cancer diagnosis typically brings. A Patient Navigator works with doctors to identify patients who might benefit from this program they then go to the hospital's oncology floor to proactively meet with patients undergoing cancer treatment.
Listen to the podcast of the show at www.atlantabusinessradio.libsyn.com/index.php?post_id=282402.
https://susansnaps.com/wp-content/uploads/2022/11/susansnaps-new-tagline-logo-150px.png
0
0
Susan
https://susansnaps.com/wp-content/uploads/2022/11/susansnaps-new-tagline-logo-150px.png
Susan
2007-11-27 23:33:41
2018-03-20 22:06:51
Atlanta Business Radio interview