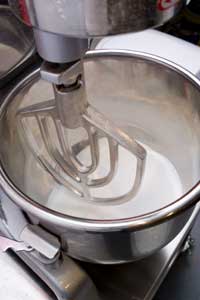 Here's one of our favorites! It's super deluxe with Susansnap Smashies pie crust!
Sensational Banana Crème Pie Deluxe
•1 cup sugar
•1/4 cup cornstarch
•1/2 teaspoon salt
•2 cup milk
•3 egg yolks
•1 teaspoon vanilla
•3 sliced bananas
•1 Susansnaps Smashies pie crust (bake as directed)
Filling:
In medium sauce pan, stir sugar, cornstarch, and salt; add milk and egg yolks, stir until blended. Cook over medium heat, stirring constantly, until mixture thickens, and boils; cook one minute. Remove from heat add vanilla and cool slightly. Arrange bananas in Susansnaps Smashies pie crust. Pour custard over.
Topping:
1 cup whipping cream and 1 cup toasted coconut
Whip cream at medium speed until soft peaks form. Cover pie filling with whipped cream. Top with toasted coconut.
HINT – Toasted Coconut
Spread coconut in a shallow baking pan. Bake in 350 degree oven for 5-10 minutes or until lightly brown. Watch carefully… stirring once or twice!
Enjoy this sensational Susansnaps Smashies Banana Crème Pie Deluxe!!!
https://susansnaps.com/wp-content/uploads/2018/02/ss-logo-laura.png
0
0
Susan
https://susansnaps.com/wp-content/uploads/2018/02/ss-logo-laura.png
Susan
2013-10-03 16:26:00
2014-10-23 14:36:34
Sensational Banana Crème Pie Deluxe